FURB's Cut the Crap Blog, Episode 3
First the good news:. I was MVP in my office for the month of August. I received a 15% raise! I was promoted to district leader. So good things are happening for me in my business. This is great for me, as I badly need to bolster my finances.
However, I am still struggling.
During the last installment of Cut the Crap I talked a lot about fear. I have a certain fear about making phone calls about my business. Why this is, I don't know. The products and services that are provided by me and my firm are excellent. I should have no problem sharing what I do with others I feel would benefit from those services.
I don't really have a problem sharing this information with those I am not really acquainted with. However, I have found it difficult to share what it is that I do with those that I am close to, or people that I have been acquainted with for a long period of time.
Of what am I so afraid? Hector LaMarque says that people that aren't calling/following up with potential clients and recruits is because the person doing the calling isn't confident that they have a great way to provide a benefit to the person they are supposed to be calling. I guess that is my problem. I am afraid that I am not going to be very good at showing people the amazing products and services that I have to offer through my company.
Fear is what I talked about in the last installment of this blog. So what am I doing to overcome that fear? Two things: I'm brainwashing myself by memorizing the Bene Geserit Litany Against Fear; and I'm getting help from my friend and mentor in the business Jacob L. Fusselman.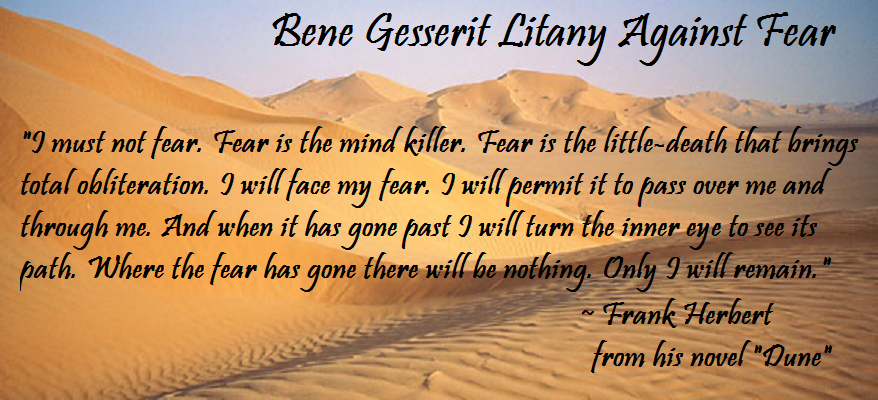 I've decide that right now I cannot overcome this fear by myself. I've taken steps to alleviate my fear without outside help, but that has been unsuccessful. Oftentimes I have experienced shortcomings (or failures) because I didn't ask for help until it has been too late. So, Jake will help me overcome my fears, in exchange for pizza. We have an appointment for noon on Friday.
I think that over time, I can overcome this fear that I have. I think it is going to be something I may always struggle with. I used to be afraid to speak in front of groups, or to call into radio shows. Now I have no fear at all of doing those things. In fact, I really enjoy doing those things. I feel that with persistence I can overcome this fear, and perhaps grow to enjoy this activity that (for now) I dread.