Will U.S. Force WA, CO To Comply With Convention on Psychotropic Substances?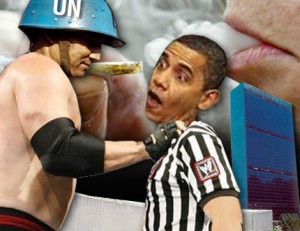 I read an article posted by Cathy Smith (the wife of Sci-fi writer L. Neil Smith) which posited that Obama will force Colorado and Washington states to comply with U.N. treaty.
I couldn't find any other article on the internet to substantiate the claims in this article, but I did find an article from a reliable source stating that Rand Paul feels that Obama is going to just this sort of thing. Although Rand Paul isn't so concerned with the Mary Jane as he is with Guns.
I hope to discuss this in futher details in the next installment of The Liberty Conspiracy Radio Show. Monday, 10 Eastern /9 PM Central on LRN.fm